About as
Inspired by ancient civilisations, we have created a place where timeless techniques and philosophies from around the world are merged with subtle technologies to create treatments designed for the modern lifestyle.
Relax, revive, rejuvenate and rediscover yourself...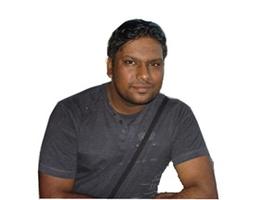 Prince V. Allum
- Our physiotherapist, 33let, born on the island of Mauritius.
- He started doing joga when he was ten and also learned massage techniques and therefore he has more than 20 years of experience in massages and physiotherapy.
- He studied two years in India - alternative therapies and medicine, Magnetic Therapy, Naturopathy, Ayurveda, Reiki.
- He studied five years - anatomy, Acupuncture, Acupressure.
- He studied one year in Japan - Acupuncture, Chi Quong.
- It also discusses the interesting hobbies like Astrology, Palmistry, numerology, hypnosis, paranormal activities.
- More than 10 years working for the luxurious hotels, wellness and spa as a physiotherapist and then team manager therapists.
- We specialize in a combination of traditional and alternative methods. All your knowledge of the above disciplines and connects on a completely individual basis according to the needs and the current state of man. No massage from Prince is not the same...
- In 2000 he became the national championships State of Mauritius in the field of alternative therapies and yoga.
- Over 15 years of experience and thanks to the accumulated experience of their clients of different ages successful in the fight against colds, diabetes, arthritis, epilepsy, infertility...
- On the island of Reunion, a French colony and is located near the São native island of Mauritius, worked closely with the Ministry of Health and Sport.
- From January 2013 along with his partner Aneta Christovová opened his own salon Indian ayurveda Prince of Wellness.
Aneta Christovová
- marketing and PR Prince of Wellness
- moderator F1
- moderator LAV show - more information visit: FB nebo web
- in Talk show Luboše Procházky - watch a short video from the show: video or photo
- article of Žena-in: Jsem boubelka, no a co?
- article of Super.cz: Nejvnadnější česká moderátorka ukázala exotického přítele.
With us
Written about us